As my readers know, gang stalking cases are unusual–and yet, extraordinarily ordinary, and gang stalkers are not known for their brilliance, nor is American society anything less than full time turf wars. I ask my readers to bear with me here, and tolerate some "bad words," in order to understand "what is gang stalking," and "who are the gang stalkers."
UPDATE: I will continue to monitor this case. Here is an update about what constitutes "free speech" and the aspect of Facebook as a "public square" forum. Later, I will visit the idea of "malicious prosecution."
Trigger Warning: If you thought the headline was bad, hang on, it gets worse. BAD WORDS Warning!!! Poorly drawn penis picture ahead!
Richard Moore is the cousin of the most famous civil rights era photographer of all time, Charles Lee Moore, and predictably, he grew up as a constant target of the actual KKK, and in fact, his uncle "trained the attack dogs of the Birmingham police department," to only attack black people.
And predictably, he is being stalked by "Freemason's" as we see through history that the KKK was founded by Freemasons, as discussed by Teodrose Fikre of the Ghion Journal in his essay "Klandestine Korporate Klan: In Albert Pike They Trust."
Well, much later in life, lifetime target Moore is also now a registered sex offender in Mississippi who is suing the Union County Sheriff for gang stalking, and he is quite honest about his status as a sex offender: " I was framed."
And you are now thinking "They ALL say that, don't they?"
However, I have personally read through his trial transcripts, his appeal, and witness testimony, and found that the judge erred in not allowing testimony that should have been allowed, that evidence chain is not only murky, but that in the case of the primary exhibit of physical evidence put forward by the prosecution, that Moore's own lawyer failed to have that sample finger printed, or DNA sampled. The judge erred substantially in the trial, and the conviction was based on false evidence, likely planted by a man who was himself later convicted of sex offenses.
In other words, Richard Moore was indeed very likely framed, and any lawyer who reads through his case will find exactly what I have found.
And I do not say that often in these cases. In fact, I have said it exactly twice.
The historical case of Ted White in a similar southern jurisdiction, was that other time, and we see how the Dixie Mafia wages war on individuals, and it isn't legal, or moral. In the Ted White case, a dirty sheriff was sleeping with White's wife, and had him framed for a sex offense. White spent some time in prison, and later appealed, whereby he won many millions of dollars settlement against that shitty little gang stalking town. so yeah, these cases are worth any attorney's time to pursue.
As I said, corruption in the county sheriff's department's across the country is a large part of what gang stalking is, and when I wrote about Ted Whites case many years ago, and shortly after that, all of my email accounts were hacked, and my houses ransacked. Little gray haired ladies would approach me in nthe supermarket sayig odd things like "We know what you read!"–really, gang stalkers are that weird, and while they can read the COVER of the books I read, seldom do they get past the title.
And I have presented that case elsewhere, and other journalists have thanked me for my research–my readers have seen some of that evidence.
So, this below is the more extreme extent of gang stalking, and the stalkers and their webs of associates most treasured narrative of "sex offenders" as scapegoats for the endemic corruption of an actual police state is a cash cow for their cash strapped little racist towns across America.
And in that, Mr. Moore is indeed a living artifact of our diseased culture.
Here is a poster that was left at the end of Mr. Moore's driveway by "anonymous" stalkers, whose webs of associations can be "contact chained" across social media to the NSA standard, which is quite valuable evidence in cases like these:
So, context is everything in these cases, and again, I urge my readers to tolerate some offensive words–but also ask the handwriting analysts in the crowd for an opinion about the writer above.
Just for fun, I will note the"brutality" and dis-similarity between the Fuck and the You, and the inconstant use of capital letters, or how a small A becomes nearly a capital A–sure, we could trace this to exactly one low-IQ asshole–but because handwriting analyses is little more than Voodoo mixed with Avinoam Sapir's results, lol–which are something like those sperm donor clinic doctors using their own sperm and making a million mistakes–so we won't get much farther than that.
I mean–until we compare it to other samples, like the one below, where we see two favorite gang stalker pastimes explored in one picture (guess which two?) Even Freud would have a haha moment over the sexual repression of the writer evident in just one word up there, and many gang stalkers are indeed repressed homosexual males, and the generally very unattractive females lowIQ they associate with. More on the junk science of handwriting analyses here.
And as we saw with convicted gang stalker Richard Wittkugle, who was part of the gang that made major media headlines as they stalked Rick and Cindy Krlich in Ohio, these folks aren't that bright, nor are they "good people" in any sense of the word. They are organized groups of nearly brain dead low IQ real life trolls who have the backing of law enforcement in corrupt regions of the country, and they cause mayhem, and even homicide.
I ask my readers to bear with me as we weed through some more "bad words" that do not rise to the level of threats, nor do they rise to the level of cyber stalking even under Mississippi's own law. But what we will see, is a man who has been harassed in his community, writing about it, and then contact chaining the webs of associations that appear in his Facebook "friends.".
He names them and shames them, as it should be, including these nitwits trespassing on his property attempting to frame him AGAIN–it's what gang stalkers do, folks.
Here is another sign that was left at the end of Moore's driveway–and note that these stalkers handwriting can be identified as "written by low IQ morons," and that the education level of gang stalkers is also very low–but that on scales of homosexual tendencies, they are very high, and that can be said about them as a group sample too. Homophobia and gang stalking is such a phenomenon that movies are written about it.
The researchers in the crowd should also note that in fact, this gang even has a name for itself, the "Cum Bandits". That in and of itself is a level of organization, and indeed presents as a gang of sorts–and my, oh my, that girly letter "C" What kind of red blooded American male writes with loopy letters?! The writer expressed a HUGE amount of joy making that letter–and that word–as he finished his masterpiece:
So we see these two priceless pieces of art are now posted here, for others to see–and I make note that only ONE writer uses that pretty, stylish, and girlish letter C, in an uneven Zodiac killer type like , whereas the other is somewhere between the Zodiac killer and Jefferey Dahmer, and so, I urged Mr. Moore to have the "artwork" above analyzed for DNA, and fingerprints–even to collect his own fingerprints with a home made print kit that anyone can make out of a woman's makeup brush, some packing tape, and graphite pencil filings.
Compare the Big Z here with our artists Big FUCK, for example. I know, right? But even the Zodiac killer never used swishy, girlish C's–and the good news is that our budding artist can find some hope in the fact that his pretty, girlish, loopy writing DOES match the Golden State Killer a bit–that guy both a serial predator AND a COP! In fact, the police personality in those podunk jurisdictions has been documented by author and historian Norma Jean Almodovar too.
Zodiac Killer Script: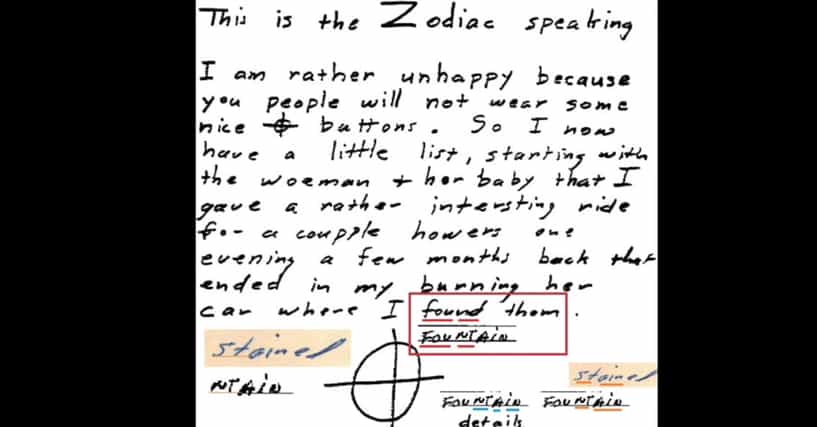 Related: Are you a big homo? Take the ESOI test from Dr. Epstein, or contact him @DrREpstein. Tell him "ROGS sent you," and give him the secret handshake–it's an online link, little artist, don't worry, know one will know our secret, ok?
Well, as one might guess, words online can get heated, and gang stalking targets sometimes sink to the depths of their stalkers using low IQ colloquial language with colloquial meaning, sometimes that irritating southern twang and bad vernacular–but they are using words that such morons understand–words that bite the predictable ego's of the types of people who gang stalk others, most of them from one or another fanatical Jewish-christian sect, cult, or other neo-conervative tribe–and they are dangerous.
But I don't advise the tit-for-tat spats that these types of sick people engage in generally, because in using the language of gang stalkers, targets almost always lose, because then, they look as stupid as gang stalkers. And, it's hard to tell who the real asshole's are in a crowd after that.
Martin Luther King himself knew the importance of being dignified in the face of gang stalking–he himself stalked by agents of US military intelligence, the FBI, and the two most famous racist groups in America, the KKK and the ADL.
So, a quick recap:
In the case of Richard Moore v Union County Mississippi, we see a neighborhood squabble cast into the modern public square of Facebook, and other social media, as Moore alleged that some people joined his Facebook account, and that the vehicle of one of those people appeared in his driveway several times.
Then, later, a truck owned by one "criminal pervert faggot" John Carlwood, of Mississippi, had illegally or illicitly trespassed on Moore's property, whereby Moore alleged that Carlwood and his "criminal whore" wife Trisha were stalking him–and that they had "better get ready" for something or other–but there was no specific threat.
Now, an online trip through the search term "notoriously shitty country music" reveals this famous country song by the Nitty Gritty Dirt Band "You and Me Go Fishin in The Park," whose lyrics contain the phrase "Baby get ready." And with certainty, there isn't a single Southerner that hasn't heard that song about a billion times, playing on back-country tractor radio's, or solar powered survivalist radio's while out fishing, or cooning, or down at the Waffle House and so on.
In the song, the meaning of "Baby get ready" very clearly indicates a love song–a coming engagement, and considering the historical trend of homosexual content and extreme sexual focus of Moore's stalkers, it's not that far from the creative imagination that Moore was simply willing to oblige "criminal house-running, pickup truck driving, faggot coward criminal" Mr. John Carlwood's and his possible repressed homosexual tendencies–I am just speculating on that based on the archetype of gang stalkers outlined here'
And, because the distance between the internet, and alleged homosexual John Carlwood of the Mississippi National Guard is quite far, even from Moore's driveway in Union county over to Lee County, there in Sleepsister Mississippi, or wherever it is that teh John and Trisha Carlsbads live.
And I don't know that "coward criminal pervert or his whore wife" personally, so I cannot say where they would fall on the Kinsey scale as either perverts, homosexuals, dog-sex bait– or whatever they are, but it is quite clear from my many years of research that gang stalkers online and off have serious sexual issues, not least of which is "voyeuristic tendencies" peeking in peoples windows and stalking them online as they do.
And, according to the evidence, and what will pop up out of a subpoena to Facebook–the Carlsmith's may or may not have added themselves to the group that is stalking Mr. Moore. We will see that on discovery, but as we know, Facebook only assists the prosecution in these cases–so I hope the good prosecutor there in Bangadoggee MS is on notice that such data will be requested from him/her.
And then, after all that, John and Alisha Carlton of Lee County Mississippi–who may, or may not have been added to Moore's Facebook account– they called the police because he spoke out in that forum, on his own page.
Wow….either way, I hope they take the Kinsey SExuality Scale Test before they show up in that courtroom, because the phrase "get ready" has multiple meanings, just like the words "coward and "homosexual" and so on. And Mr. Moore will have a questionaire regarding their sexuality prepared for them at trial.
Here, Mr. and Mrs. Karlwood, take this Kinsey Scale Sexuality Test so that Moore doesn't get "the jump on you "in court! You know how those sex offenders are right? And…how do you know this exactly….? Take that test!
OH WAIT! Moore never called them "homosexuals! He called Carlswood a "faggot coward!" Wow! I am a trained journalist—how did I miss that!
Well, even that word "faggot" has a long history, buried in the buggery of ship captains who kidnapped little boys off the shores of…oh, I am getting off track–let Charlie Shenanigans tell you more about that.
"Well, I seem to recall that it has to do with buggery," said Shenanigans "and ship captains."
Thank you Mr. Shenanigans.
faggot[ˈfaɡət]NOUN NORTH AMERICAN offensive a gay man.a bundle of sticks bound together as fuel.synonyms:bunch · roll · clump · wad · parcel · packet · package · pack · sheaf · bale · bolt · truss · fascicle · pile · stack · heap · mass · quantity · armful · collection · accumulation · agglomeration · lot · batchBRITISH(faggots)a ball or roll of seasoned chopped liver, baked or fried.BRITISHinformaldatedan unpleasant or contemptible woman.VERBarchaicbind in or make into faggots.(in embroidery) join by faggoting.
So–what happened there? The formatting just took a crap on my page!
Well, back to the story:
According to Moore "I made post in my page. I never had one conversation with them." Hmmm. Looks like that MS statute is about to be tested–one or a few comments on one's own Facebook page does not a cyber stalker make.
Further, "I caught a pickup truck registered to John Carlwood on my property twice," he said.
John Carlton "was stalking me on my property. I can't contact law enforcement,"
And so it goes with genuine targets of community gang stalking, because he has over two decades attempted to do that, which he documents at his Facebook page, titled The Mississippi Anti-Gang Stalking Association. I also have documented his case here at my blog, and even note that another gang stalker named Tiffany Fontenot uses the junk and debunked science of "reverse speech analysis" to victimize her targets–and she attempted to slander him online too.
And too, I have been in communication with Mr. Moore as these things occurred.
"Charlwood dosent drive that any longer and law enforcement said they were not required to change the tag which is a lie. The investigator Bobby Bean with Lee county SO made the charge. Felony for posting unflattering free speech," said Moore in an email exchange.
In the initial complaint, Officer Lance Miller of the Lee County Sheriff Department cited it as a "Simple assault by threats." which is a misdemeanor, and later, some bright bulb from a state full of notoriously bright bulbs escalated it to felony cyber stalking.
Here is more about Mississippi's Cyberstalking [sic] law, statutes 97-45-15. Cyberstalking, and predictably it is one of the many laws that were put on the books disguised as "women's empowerment," but whose net effect and intention is merely crushing speech, so that the One Percent and their many hidden operatives in society can oppress individuals.
Here's the initial complaint, a public, legal document that anyone can access:
So if you get one idea, understand that in gang stalking cases, we are not always dealing with what can be called "sympathetic characters," and despite the obvious bad language, we must see through it to the heart of the issue, and look at the broader constitutional issues involved.
Free speech v fighting words
Public Square commentary v libel and defamation
threats communicated electronically v opinion, conjecture, hyperbole, and üncivil but protected speech
And of course, the domestic violence industrial complex (DVIC), which was designed primarily to squash speech that the Handkerchief Lady finds objectionable–the DVIC is a full court exploitation of all of these issues, creating "grey area" within the law itself, like a ghost, to hide the biases of people like these, and circumvent the law.
In that light, ultra-conservatives and the religious in white supremacist states have crafted many laws to circumvent due process and civil liberty. In Mr. Moore's state, the Cyberstalking law that he is charged under is exactly that type of vague law, full of loopholes for the KKK, the ADL, or other community stalking groups to slip through like a rope through a hangman's knot, depending on the jurisdiction.
These laws were passed under the guise of "protecting women and children" at the height of the Satanic Panic era, often as the direct result of lobbyists from the various "Its For The Children" groups began their assault on free speech during the post 1993 VAWA era.It has clauses for using electronic media for policing the intention of "any words or language threatening to inflict bodily harm," and circumscribing words that are for the "purpose of extorting money," and so on.
That is all well and good–threatening to kill people, extortion, and so on are indeed criminal acts, and SHOULD BE punished. No new laws are or were necessary to police that, and yet here we are, with this "special" set of laws which function as little more than a coded language for deep state cultists to forego constitutional guarantees, while policing our speech online.
But words on Facebook, written in response to some asshole's pickup truck in your driveway, while you are a constant target of the KKK, and their affiliated sheriff's departments–and that asshole and his criminal stalker whore wife having joined your Facebook FIRST?
Pretty sure that's why the public square is there, and since many targets are stalked OUT OF the actual public square, and so, for some, Facebook exists in that capacity now–to add layers of protection for both stalking victims, but also for wolf howling #fakeTI's like that "faggot coward pervert criminal" John Carlwood, and his fat "whore criminal" wife too.
That extra layer of protection between a speaker and another counts for something, and no reasonable person would think that Mr. Moore's words in a one-time posting there on the New Public Square that Facebook Really Is, can rise to the occasion of "threats" or actual intimidation–unless, perhaps, Moore is correct about the panty-waisted intentions of gang stalkers generally, and the Carlberg's specifically–that they all are cringing cowards when dragged into the light, or when a targeted individual finds their home address, and decides to pay a little visit.
Whatever happened to being good neighbors, Mr. and Mrs. Charlton? OUr online lives are so dehumanizing, that's its nice to get out and meet your neighbors once inawhile–or check in on those who find people like Mr. Morre so interesting that they are part of a group on his Facebllok page?
Yeah, so, not so sure that all counts as either threats, or cyber stalking.
As Mr Moore has said "my FREE SPEECH is all I have and when crimes are committed against me, nothing is done. When I complain publicly, I'm now the criminal!"
Yup. That's EXACTLY what these modern word-lynchings are, and sane people know this. Occultists and others in gang stalking groups do not.
And so here, what we have are indeed occult groups, waging semi-anonymous war against an individual, and that individual well within has rights to say to a stalker "If you come on my property and I catch you there, you better look out." And also well within his rights to identify these people and name them anywhere he damned pleases, and state an opinion about the company they keep. It's in the interests of safety, and society to publicize the names of gang stalkers.
I have documented that myself, and even here at this blog you are reading–search term "follower's."
So: what happens in gang stalking? Back to Mr. Moore:
"Felony for posting unflattering free speech. I caught I group on my property at 2am on tbe 23rd they all ran back to the Chris Adams place and several cars with their hazard lights flashing were leaving really fast going in every direction to get away. I've had many break-in's and these people would come in my yard shine lights in the windows, laser lights I posted this a couple of weeks ago. I have been stalked by these people for nearly 6 years. Many complaints, nothing done,"
On that note, if in fact John Carlwood and his wife Trisha from Mississippi are doing this stuff, I myself would agree that they are "faggot stupid coward criminals" but I DISAGREE that John Chalrwoods wife is a whore.

Nope, certainly she is NOT A WHORE, because then, she would be on a par with brave and ferocious sex-workers rights activists like Maggie McNeill, and others, such as my favorite Cop Turned Call Girl, Norma Jean Almodovar, who proudly use the term whore as a badge of honor.
Yeah-nope.
In that case, John Carlwoods wife would appropriately be called "a prostitute," having sold out her responsibility to NOT stalk people,or of stalking them on Facebook FIRST, or even being associated with people whose license plates attached to trucks show up at potential crime scenes; or for whatever social benefit such prostitutes gain from this type of activity. Prostitution requires a sale of some kind, or metaphorically it also has the meaning of a gutless person who is easily recruited to causes and so on.
And as usual–feel free to sue me, Union/Lee county, and your respective "big fat faggot Gomer Pyle looking criminal gang stalker prostitutes". You know where to find me.
But be careful when you do, because if its on my driveway marked "no trespassing"and I feel threatened? Baby, get ready–I might put a bullet through your foreheads, ok? But only if I can get it on camera, because police in such jurisdictions are probably all banging your wife already, at the same time, in her whore ass, to busy to look at their own pole cam's, or as we see in Moore's case–the asshole KKK volunteer Fire Department has camera's on his house "24-7."
That above's my interpretation of Moore's words–if I was to put words in his mouth–and certainly any reasonable person too, who under the circumstances might feel similar angry feelings about wanting to put words into peoples mouths, right? And that badly drawn penis is an issue too–
–but Moore didn't say anything close to that, not by forty million four hundred thousand gang stalker pecker lengths –which in the real world is about the distance from Union County to Lee County, as the crow flies; and as gang stalker pecker's all measure around 2.5-4 inches. See chart below–if you see a subliminal message in there, either you are delusional, or am I reading into it a bit much? And feel free to check my math…
Because as we see in the case of the eBay gag of stalkers, and the many cases of activists around the country popping up dead? Cases in the Dirty South where joggers like Ahmaud Arbery are killed by gangs of police and their associates who stalked them for many years?
Yeah–Gangs of stalkers ARE dangerous, and deserve a pre-emptive fair warning just to keep them out of trouble and safe from themselves, but also, when they show up in my driveway? I might have a peek at theirs too–but they best stay out of people's driveways regardless, in person, or by proxy of that truck.
Are them's fightin' words, judge? Am I "cyber stalking" the Carlsbergs?
To any decent member of any society that has free speech written into the constitution, context is EVERYTHING. And reasonable people get that, except in the Lynching Capital of the Dirty South, Mississippi, for some reason, where they don't get that. How many dead confedeRAT statues need to come falling like meteors through the Lee County courthouse roof before shit changes down there?
I have read through the complaint, and context is king here. Moore is well within his rights, on his own Facebook page, there was no pattern of conduct, just a one time set of comments, containing no specific threat, and he never sought out those "victims" at any time for any nameable "threat" –and your victims BTW appear to be Facebook stalkers themselves. They fit the profile.
And really–it's not like the guy said "Hey, I will bomb your house," or "Hey John Carlwood, I have a sniper friend from outside of MS, who might stalk you from the woods behind your house, and shoot you between the eyes like as if you are a wild pig in a Georgia swamp*" if you keep that shit up down there."
Because those types of words would be an ACTIONABLE cause for an arrest, unlike the pissant coward charges you put old corporal Lance up to (having a field day with the name "Lance" now…I bet he's a lot like Link over there in Arvada, the Keystone Klown Kop Kapital of Kolorado.)
Baby get ready: if my sniper friend DOES show up at your house, I would of course be to blame. But I just made that up, and all Moore said after all was "you better get ready,:" like that old crow Madge in Cat on a Hot Tin Roof–she got ready for her closeup, after extensive stalking and gossip campaigns in the deep dirty south made her kind of edgy–and you should get ready too, John and Trisha Charlatans.
And I would like the Carlwood's to keep all of that that in mind as they proceed with this case too–remember: you or your friends tell someone "F-U," and you got four more pointed right back atcha, sorta like auto-erotic amusement–and that's what a lot of gang stalking IS too, is a bunch of fat criminal faggot's and their whore prostitute wives, thinking they can anonymously terrorize people late at night.
And feel free to comment, ok? If I got any details wrong in the story above, I can just correct them, ok?
*Charlie Russel and other painters of the Golden Age of the Cowboys would have a field day with stalkers, who are always suspecting nefariousness out of ordinary cowboys. Here below, we see the Lawman's obsession with men who sleep with men, a sort of enforcement of a two-tiered narrative, and social marginalization. And, Charlie Russel was "man enough" to go face to face and toe to toe with faggot coward criminal gang stalkers, too.
**Georgia is the second most lynching prone state in the USA, although many timelines put MS first.