Mitre corporation is in my sights tonight, as that cloak and dagger security firm was the last place of employment of John "Jack" Wheeler, a Washington insider, and a cyber and bio-weapons expert.
I revisit a strange case of a security insider, with every clearance, dying in a dumpster. TBH, I know a thing or two about strange deaths in dumpsters, and only my regular readers will know that. And, those readers will know why I know that too….
So, first, from one of "those types" of websites, that was painted as a threat to democracy, many years ago–RedIce Tv spotlights the odd death of John Wheeler, a portrait of the final hours of a man being murdered, courtesy of "whoever it is" that supplies us with these rotten narratives, and that elements from within the FBI –for "some reason or another– never seems to investigate properly, or charge suspects in federal courts.
Riiiight. FBI is so "clean"–they offer "technical assistance, like " If I were you I would lay low for awhile!!! Join the Witness Protection Program!!!–You are about to be framed or buried–it is what the FBI DOES in such cases. And follow the story below, as we see that same agency working with Mitre too:
Events surrounding the murder of John P. Wheeler III, who most recently worked part-time for defense contractor Mitre Corporation on cyber defense topics, read like a Tom Clancy novel. The 66-year-old worked for three Republican administrations, was special assistant to the Secretary of the Air Force, served in the office of the Secretary of Defense, and penned a manual on the effectiveness of biological and chemical weapons, which urged US forces to show restraint.

The day after Christmas – five days before his body was found as it was being dumped from a trash truck into the Cherry Island Landfill in Wilmington – Wheeler sent longtime friend Richard Radez an email expressing concern that the US wasn't sufficiently prepared for "cyber warfare," according to The Associated Press.

"This was something that had preoccupied him over the last couple of years," Radez told the news organization….Wheeler's focus on computer warfare, and his ties to Mitre, have already attracted conspiracy theories involving the military industrial complex, but there are plenty of other intriguing details that don't immediately fit into such a plot.

Among them are revelations that Wheeler was seen on December 29 and 30 in a "confused and disoriented" state in downtown Wilmington. During that last appearance, which occurred some 14 hours before his body was discovered, he was wandering inside an office building a few blocks from an attorney who was handling a contentious lawsuit Wheeler filed to stop neighbors from building a home near his. He refused help from several people who approached him.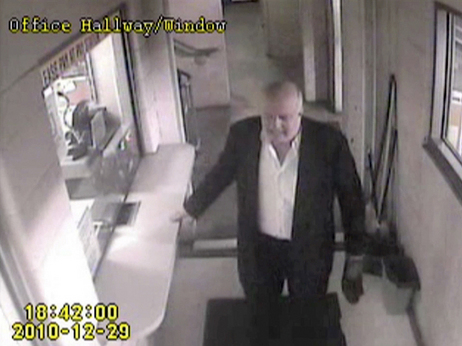 A day earlier, he approached a parking garage attendant "wearing a black suit with no tie and only one shoe," according to the AP report. He carried the missing shoe in his hand and wore no overcoat, despite the frigid temperature. He told the attendant he had been robbed of his briefcase and said repeatedly he wasn't drunk.

To further the intrigue, Delaware police have reportedly found evidence that Wheeler may have been involved in an attempted arson on the same neighbors he was suing. The attempted arson on December 28 came after someone tossed several smoke bombs used for rodent control into the neighbors' house, scorching the floors.

What's more, the AP has reported that yellow police evidence tape was seen surrounding two wooden chairs in Wheeler's kitchen, where several wooden floorboards were missing, even though Delaware police have said the victim's home is not considered a crime scene. A neighbor, according to Examiner.com, said Wheeler's television blared continuously in the days preceding his death.
Well it wasn't an arson–it was some smoke bombs put there by exterminators. And most of the story that ran in the press doesn't add up either, except the part about corrupt Newcastle, Delaware government, and the fact that Wheeler had uncovered some unsavory facts about that government too.
You can read all of those theories here, and take a look at how corrupt Newcastle is here. Like all city governments around the US since 9-11 that city has become an opaque and illicit mafia like structure of double dippers and other scam artists too. Incidentally, Wheelers wife favors the theory that he was knocked off by a hitman, hired by that city government too.
Well–back to Mitre, a not-for-profit corporation that advises the federal government–Max Blumenthal is on top of a story that I covered over a decade ago, and he is asking all the right questions about Mitre Corp., and its globalist mafia backers, their Plandemic, and other hard questions too. Yup–there's even some Rockefeller's in there too. And digital ID's….and replacements for cash currency…exactly all of the things they once called "conspiracy theories" are in fact, being planned by this exact group as I write this.
Sure–no conspiracy whatsoever. Riiiight. MOOOOoooooOOve along little doggies, move along.
Jeremy Loffredo and Max Blumenthal·
The Vaccine Credential Initiative, a neoliberal vehicle advised by military-intelligence professionals
Described as "the most important organization you've never heard of," MITRE rakes in massive security state contracts to pioneer invasive spy tech. Now it's at the heart of a campaign to implement digital vaccine passports.
While vaccine passports have been marketed as a boon to public health, promising safety, privacy, and convenience for those who have been vaccinated against Covid-19, the pivotal role a shadowy military-intelligence organization is playing in the push to implement the system in digital form has raised serious civil liberties concerns.
Known as MITRE, the organization is a non-profit corporation led almost entirely by military-intelligence professionals and sustained by sizable contracts with the Department of Defense, FBI, and national security sector.
The effort "to expand QR code vaccine passports beyond states like California and New York" now revolves around a public-private partnership known as the Vaccine Credential Initiative (VCI). And the VCI has reserved an instrumental role in its coalition for MITRE.
Described by Forbes as a "cloak and dagger [research and development] shop" that is "the most important organization you've never heard of," MITRE has developed some of the most invasive surveillance technology in use by US spy agencies today. Among its most novel products is a system built for the FBI which captures individuals' fingerprints from images posted on social media sites.
MITRE's own COVID-19 umbrella coalition includes In-Q-Tel, the venture capital arm of the Central Intelligence Agency, and Palantir, a scandal-stained private spying firm.
Elizabeth Renieris, the founding director of Notre Dame and IBM's technology ethics lab, has warned that "as dominant technology and surveillance companies" like MITRE "pursue new revenue streams in healthcare and financial services…privately owned and operated ID systems with profit-maximizing business models threaten the privacy, security, and other fundamental rights of individuals and communities."
Indeed, the involvement of the military-intelligence apparatus in the development of a digital vaccine passport system is yet another indication that behind the guise of public health concerns, the US surveillance state could be due to enhance its control over an increasingly restive population.
The Vaccine Credential Initiative, a neoliberal vehicle advised by military-intelligence professionals
As detailed in the first installment of this series, tech oligarchs like Bill Gates and global capitalist policy hubs such as the World Economic Forum have advanced digital ID and electronic currency systems across the Global South in order to harvest data and profits from populations that were previously out of reach.