Biden sounds alarm about global democracy at virtual summit
That's an AP News headline from today, after President Joe Biden held the Whitehouse' first ever "Democracy Summit." Apparently, calling the US police and surveillance state a "democrqacy" seems to have appeal for many around the world who have never lived there, and encountered the brutal policing methods used in such a "democracy."
Folks–stop calling it a democracy, because it is a "police state" by the very definition of the term.
police state[police state]NOUN

1. a totalitarian state controlled by a political police force that secretly supervises the citizens' activities.
Dear delusional idealists: The US is run by what is called a "shadow government" which is composed of a "deep state" with armies of current and former military, military intelligence agents, police, and others who utilized the practice of "stalking" to destroy democratic discussion or dissent. They bully, intimidate, stalk, and harass–and even murder people when they can get away with it.
Have a look at the case of the eBay stalkers, or the case of the police union boss threatening reporters after a "gang" of cops murdered two people in their home–or the case of Ahmaud Arbery, whose police stalkers are now in prison after they stalked him for several years, and then murdered him. These stories are EVERY DAY stories, from the US police state–they are not unusual, and they are not "outliers."
The US tracks every citizen via "Fusion Centers" in every state, and they use "ALPR's" to read your license plate and track your movements in real time.
The CIA has either collaborated with, or financed each and every Silicon Valley Big Tech platform and other internet services, via their venture capital firm InQTel.
And, the military is deeply involved in crushing actual democratic discourse, EXACTLY as they have been for the last century, with notable examples such as how they tracked Malcolm X and Martin Luther King's entire families for four generations, and counting, even today.
Lastly, the National Security Agency (NSA) collects all of your computer and cellphone data, including whole-capture conversations, and shares that data with the racist apartheid state of Israel.
So, be prepared for your illusions about the US to be shattered rather quickly as soon as you get there, should you have the illusion that the country is free.
And, I am fortunate to have grown up in the time when the "freedom loving true blue American's" warned us that "the commies in RUSIA!!! and in CHINA!!!" are stalking their peoples, and have the biggest prison systems in the world!!
I remember how I was told "Dictators and totalitarians wiretap all of their peoples phone calls! They imprison people for "free speech" and no one has rights in THOSE kinds of countries!!!"
What popycock.
Hey, Sleepy Joe, have you looked at what deep shit your own democracy is in right now? Maybe, ask Richard Moore of the North Mississippi Anti Gang Stalking Association–his case is textbook "totalitarian harassment," worse than anything I ever saw in any communist country, ever. While the US isn't exactly the Congo, it IS a different kind of banana republic at this point, and not a democracy at all.
Democracy my ass….
Here is more of Richard Moore's story–as bizarre as these stories are, there are tens of thousands of them all over the USA:
For nearly six years I have been relentlessly targeted and " gang stalked " by Community policing, COPS program, PAL program aka " gang stalking"
I did what any normal Americans would do and I reached out to law enforcement and. Attorneys only to be gaslighted and treated as if I was suffering from some type of psychosis. My first encounter was with Union County Sheriff's Department three and a half years ago. I was at my home being heavily stalked by drive by creeps. The vehicles were creeping by almost at a stopped face angry glares the shouting obscenities. I called 911 and two Union County Mississippi Deputies arrived. I was highly agitated about the stalking. When I asked the Deputies had they ever heard o er a group or program vthat did such things as I was reporting. They replied no and asked me if they were doing it at that very moment. This was the first telentellbsign of gaslighting. This is also clear proof that the oath to protect the citizens and the constatution was simply a" thing " they do but it really means nothing.
After the Deputies left the stalker g and harassment resumed. I called 911 and it took 45 mininutes versus the first trip of 15 minutes. Seems they had a pre criminal plan meeting prior to their return. One Deputy arrived and instead of parking on my property as before he parked by tbe adjacent Alpine Mississippi Volunteer fire department. This fire department has and still remain the home base to terrorize and tourtoure me. Tbe deputy motion Ed me over to the FD parking lot and immediately oak Ed me in cuffs for public intox! I was not under the influence of any drugs or alcohol. My head was slammed against the door while I was being stuffed in the backseat of the deputy sheriff's cruiser. I pleaded with the deputy to take me to a hospital and I would submit to ant test to clear me of intoxication. They refused. They were well aware that I suffer from severe PTSD causes by abuse from law enforcement will wrongful arrest , planted evidence ect.
I was tourtoured in the custody of the Union County Sheriff's Department. They refused to give me my prescription medications. According to jail policy I did not exhibit any signs of intoxication. Based on that I should have been released immediately on my own recognizance. However I was held for 13 hours threatened by violence by 2 road deputies for asking for my medication and a telephone call. The the trauma I experienced that day caused irreparable harm and exacerbated my condition.
I had a trial for this case. It wasn't necessary but I did have an attorney present. I insisted I take the stand in my own defense. The prosecutor had a very nasty attitude and again was marginalizing and gaslighting me the victim. I made the prosecutor and the deputy look like fools. The prosecutor ask me what type of medications I was taking insinuating I was on psychotic medications. I'm taking lisinopril for blood pressure. The prosecutor asked what else are you taking.? My reply was nothing. The prosecutor then said do you realize you can still get a DUI if you're taking prescription medication. This statement obviously I had nothing to do with what we were talking about. The next Bazaar questioned by the prosecutor was mr. More do you think the whole world is out to get you? I replied that that was the most ludicrous question I've ever been asked. Buy retort to the prosecutor was this no I don't believe the whole world is out to get me boss scratching my head still trying to grasp the very strange line of questioning. I said but I do believe that the white trash in the house trailer across the street for me does it like me but they by no means represent the whole world. The deputy his testimony was that my pupils were dilated. And I exclaimed that it was amazing that the deputy could ascertain the talks said it toxicity level of my blood father circumference and diameter of my pupils. The judge absolutely threw his hands up it says I have no other option but to rule this as not guilty Mr more you're free to go. Union County has been pissed off ever since.
Mall Union County members of law enforcement emergency Management and others are named in a federal lawsuit for civil and constitutional rights violation of by first fourth and fourteenth amendment rights. I now struggle with dealing with relentless attacks and stalking from drones.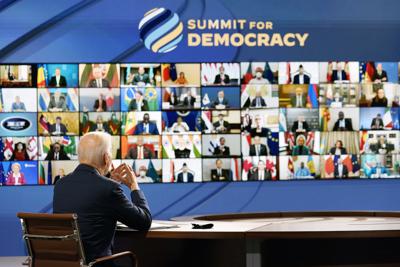 1 of 5President Joe Biden speaks from the South Court Auditorium on the White House complex in Washington, Thursday, Dec. 9, 2021, for the opening of the Democracy Summit.The two-day virtual summit is billed as an opportunity for leaders and civil society experts from some 110 countries to collaborate on fighting corruption and promoting respect for human rights. (AP Photo/Susan Walsh)1 of 5President Joe Biden speaks from the South Court Auditorium on the White House complex in Washington, Thursday, Dec. 9, 2021, for the opening of the Democracy Summit.The two-day virtual summit is billed as an opportunity for leaders and civil society experts from some 110 countries to collaborate on fighting corruption and promoting respect for human rights. (AP Photo/Susan Walsh)
WASHINGTON (AP) — President Joe Biden on Thursday opened the first White House Summit for Democracy by sounding an alarm about a global slide for democratic institutions and called for world leaders to "lock arms" and demonstrate democracies can deliver.
Biden called it a critical moment for fellow leaders to redouble efforts on bolstering democracies. In making the case for action, he noted his own battle win passage of voting rights legislation at home and alluded to the United States' own challenges to its democratic institutions and traditions.
"This is an urgent matter," Biden said in remarks to open the two-day virtual summit. "The data we're seeing is largely pointing in the wrong direction."