From AP News: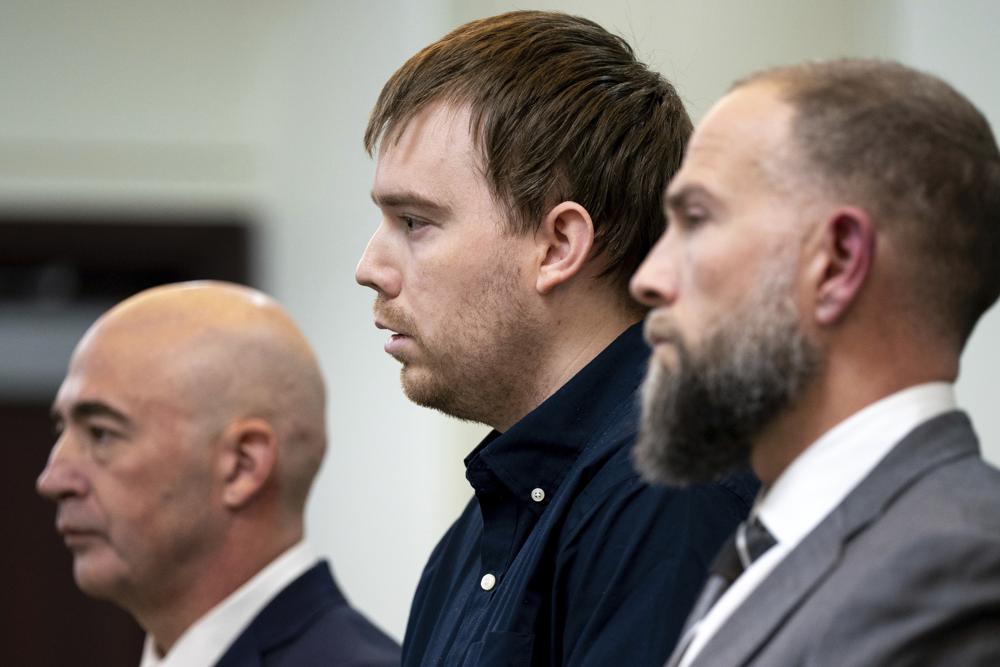 Waffle House shooter found guilty on 4 counts of murder
NASHVILLE, Tenn. (AP) — A man who shot and killed four people at a Nashville Waffle House in 2018 was found guilty on four counts of first-degree murder Friday by a jury that rejected his insanity defense.
Travis Reinking, 33, did not dispute the details of the shooting, which was caught on surveillance video and witnessed by numerous people.
Naked save for a green jacket, Reinking opened fire inside the restaurant just after 3:20 a.m. on April 22, 2018, killing Taurean Sanderlin, 29; Joey Perez, 20; Akilah Dasilva, 23; and DeEbony Groves, 21. He fled after restaurant patron James Shaw Jr. wrestled his assault-style rifle away from him, triggering a manhunt.
Evidence presented during the trial showed Reinking had schizophrenia and had suffered delusions for years, believing that unknown people were tormenting him. He contacted law enforcement several times to report that he was being threatened, stalked and harassed. In July 2017, he was detained by the Secret Service after he ventured unarmed into a restricted area on the White House grounds and demanded to meet with then-President Donald Trump.
His behavior was so alarming that state police in Illinois, where he lived at the time, revoked Reinking's state firearms owner identification. But that only meant he had to turn over his guns to someone else with valid identification. Reinking surrendered the guns to his father, who later returned them to his son.
ADVERTISEMENT
Since law enforcement declined to take his delusions seriously, Reinking began to feel that they and other random people were part of a conspiracy against him, psychologists testified at trial. Shortly before the attack, he believed that someone had drugged him, broken into his apartment and raped him. Reinking told psychologists that while praying about what to do, he received a command from God to go to the Waffle House and shoot three people.
---
The case above highlights the effects of gang stalking and how it iss conflated with schizophrenia. The diagnoses is largely part of the eugenic approach that was popularized by the medical mafia, and its "health and hygenics" approach to creating a one world government.
From the literature, we see that there is no exact definition of schizophrenia or any coherent description of what it is, but we do see it applied to persons who are "socially undsireable" due to their thoughts and beliefs.
We also see it applied to persons who have undergone extensive gang stalking, and we see attempts to apply it post mortem to mass shooters, and other bizarre evets such as mass stabbings, car crashings, and so on that hit the news too.
Unsurprisingly, marijuana usage is often comorbid with the diagnoses, and implicated as a a causal factor and descriptor of the "disease," as we see in the case above, his "delusion" included the desire to move to Colorado, and smoe a lot of pot.
More on the political/fake diagnoses of schizophrenia, from the National Center for Biotechnology Information:
The diagnostic concept of schizophrenia: its history, evolution, and future prospects
Assen Jablensky, MD
the existence of a specific brain disease underlying schizophrenia remains a hypothesis. Against a background of an ever-increasing volume of research data, the inconclusiveness of the search for causes of the disorder fuels doubts about the validity of the schizophrenia construct as presently defined. Given the protean nature of the symptoms of schizophrenia and the poor coherence of the clinical and biological findings, such doubts are not without reason
Read that carefully–that a bullshit diagnoses that has destroyed the lives of political activists in all totalitarian regimes throughout history since this bullshit diagnoses became de facto official source mental health slander after its"inventor" Kaeppler put it into the "mental health bible" of totalitarianism, the DSM, this diagnoses is STILL being applied–though no one knows exactly what it is!
I will restate a part of that hypotheses:
the inconclusiveness of the search for causes of the disorder fuels doubts about the validity of the schizophrenia construct as presently defined
Note that it is a construct–something constructed, manufactured, "made." And that it is "defined" in some way–that it is a definition of something that has no actual definition! And note who makes it–Big Pharma et al.
SO, this is what it is, and the story above is a story about who gets defined by it, and what type of social impact it has as a social "construction."
1-A guy claims he is being gang stalked. Have a look at the case of Richard Moore in Mississippi to see what that looks like. Moore has a long list of things that "happe" to him, and he captures it on film. Cars trying to run him off the roads, at oe point succeeding, and totaling his car. He files police report after police report, and submits the evidence of pickup trucks driving over his lawn, and people actually threatening him–on film, in his home. The police refuse to investigate–compare it to the case above for reference. And most recently some sociopath stole his recording equipment too, after an eleborate intersate plot. This is what gang stalking is, and he has a list of names, and three federal lawsuits ongoing too.
2-a guy repeatedly makes complaints to law enforcement about that criminal gang stalking–the police refuse to act. See the case of James Williams in Florida, where similar case facts as Richard Moore are evident. Threats, squealing tires in front of his house, horn honking–all caught on film, and even a speed radar device, where Williams documents people routinely doing 55 in a 40mph zone–and the police refuse to arrest or even ticket named actors whose license plates are caught on filme as they do this stuff. Both cases include sheriffs who are under investigation, one of those investigations is at the Department of Justice level.
3-the situations escalate, as police refuse to take action, but rather, call it "delusional" fantasy
Seriously–these cases are not any type of mental disorder whatsoever, but rather an ondicator of a society in total freefall away from democracy-and the outcomes end badly for all involved. And schizophrenia is a totally bullshit doagnoses, slapped on these cases, cout=rtesy of actual "mobs" of people who work in policing, mental health, and other state functions–all of that underwritten at the state level by the medical mafia's.